hippie free, since 2003
my dear sweet yet demented friend jean sent me this adorable email: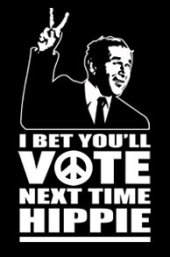 god bless her patchouli soaked soul. she's delusional. is there a single reader out there that believes the hippie vote could swing an election? just checking.
meanwhile, in texas, previously respectable folk talk about throwing their votes to kinky friedman in the face of one of the most booming times in texas history. back to this planet people. where is this logic that demands change in good times coming from? and just why is everyone against having good times?
nah, i can't stand a stinky, hairy hippie at any age. i guess it's my line, but i respect discipline and hard work above all. plus there's no reasoning with clueless dumbfucks, is there? hang the hippies high for all i care.
i suggest a new slogan, "smoke their dope and get a rope!" or "hippie holocaust in 08: it's shower time, baby" help me out, please, in the comments. it's been 40 freakin years since the sixties, we NEED a clean up america campaign. something more in your face than a crying indian.
update: ugh, i JUST realized how offensive holocaust and shower time are in one sentence. sorry. it was sincerely meant to allude to irradicating hippies by bathing them, and in no way meant to be so vile as to mock murdering them. oy vey, people, what was i thinking?? mel gibson made me do it. i'm a lover, i am.
Posted by shoe at August 5, 2006 09:32 AM | TrackBack