Retropost
This techtard is done. A week or so ago, I lost all my bookmarks in firefox and all my feeds in feeddemon to a virus and/or spyware containment. Did that make any sense? Basically, I became disconnected from my regular reads. It wasn't all 12 step logic and let's talk about it either, it was child birth. The cord freaking cut, goodbye cozy world.
The road back to normalcy has been worse than I thought possible. Did you notice that I never alter my blogroll? Why do you think that is? It's because I can't. That would be an all weekend type event and I don't think I'll get there.
The problem is, I am blown eye, I am blog sloth. I was comfortable prior to losing my feeds, so much so that caring became optional. I'm sorry. Fact is, I sure can do a linky dink, cause there is a giant blinding button for that.
Anyway, two things have been chewing at me in the blodge world. One, Erica not being on my blogroll. It's a crime, sister. Just last week you mentioned having that haircut and it immediately made me think of this one I gave myself back when I was 5 or six or so: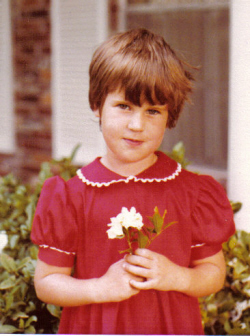 What a trip down memory lane, gurlfry! See my expression? Reminded me of my boys and I debated which one. Your little comments mold my whole weekend. Sorry I have disrepected you with my total lack of html skills. Please consider yourself loved, even if not linked.
The other thing will have to wait. Apparantly my virus scanner has just "automatically healed" 190 files. Oooops! That can't be good. I'm going to close my eyes, and press save & publish and then I shall step away from this demon possessed machine for a healthy spell. I really don't want to know if I just lost my feeds again.
Enjoy your Sunday.
Posted by shoe at February 25, 2007 10:23 AM | TrackBack