schoolio inglesias
well, i made it. up at the crack, and a frumpy monkey all day, but it all got done. can i hear a hell yeah?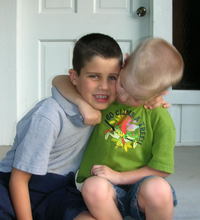 the entire first day picture shoot was a wrestling match from word go.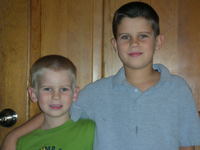 that's wrestling saliva on their first day of school duds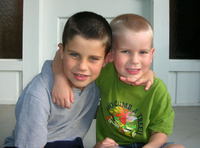 true finally manhandled a straight on pic of the goofball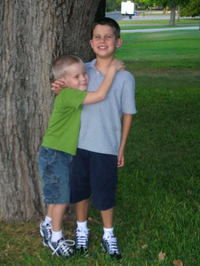 in this last one, true is saying through his teeth, "stop alex, don't you know she's taking a picture of this? you are so gay, you are so gay, stoooOOOOp " while he freely inflicts ear torture on the little lovechop.
when i dropped them at school, true took alex by the hand and walked him in. the last thing i heard him say, "c'mon brudder, i'll show you where to go.." and they disappeared into the gym, holding hands.
innocence almost lost, but still hanging on by a thread.
Posted by shoe at August 16, 2006 11:26 PM | TrackBack