the architect and the circus act
life really imitates life. my kids remind me so much of my brother and i. the sibling dynamics are just wild.
last night, i noticed alex had four or five pieces of gum in his mouth at bedtime.
"alex, spit that gum in the trash and go brush your teeth again."
alex, "but true has gum too"
true, "i'm not chewing any gum."
"true, hand over the gum." reluctantly, he opens his left hand to reveal two squished yet still wrapped pieces of gum. "other one," and he gives up two more from the right.
alex, "he's got more in his underwear."
"true, give me the gum from your underwear."
true, "that's it, in your hand. that's the gum i was saving for later."

and there you have it. my true, he saves everything, even stolen candy, because to him longevity equals purpose. but the alleycat, not so much. instant gratification, it's all he knows.
i remember when true did this homework assignment in kindergarten, planning the family firedrill. his was almost a perfect aerial floorplan of our house showing all the windows and doors as exit points. there were routes for each of us to escape through the nearest exit point in red.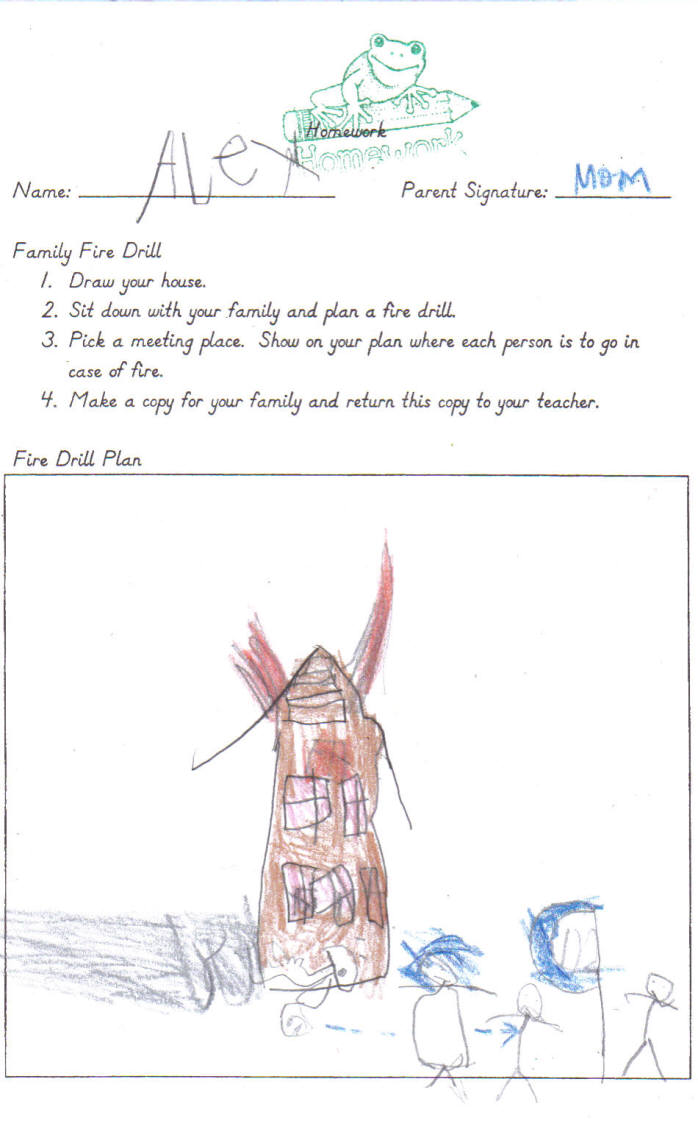 alex's rendition was a little different. to him, the assignment was more about the flames than the safety or the drill. actually, it doesn't look a thing like our house. and no, i don't have a thyroid problem. i asked that he give mommy a dress this time, i was sick of being asexual. won't be asking that again.
in short, the variety makes for fun but exhausting days. i'm happy not to have clones, but i've given up on expecting much similarity at all. different ends of the same gene pool, familiar yet repulsive to the other. best buds and mortal enemies. like i said, really reminds me of my brother and i.
and just guess which sibling i was? uh huh, big fucking mystery cliffhanger there.
Posted by shoe at October 17, 2006 07:00 PM | TrackBack