crockett & bones
Ugh. I hate capitalizing. For all your collective bitching, I received nary a comment on my new found shift key. And that hurts, peep-eyes, because I strive so hard to please you.
I know it's late, but I never got to post about Halloween. Awesome. The kids' grandmother offered to send them costumes, which worked out great for me as I was fresh out of give-a-shit this year. No way I would have made costumes again.
Alex wanted to be a skeleton, so that wish was granted. She sent True a Daniel Boone costume, coonskin cap and all. Well, like all kids, at least on our block, they wore their costumes everyday leading up to the big day.
We started out singing, "Daniel Boone was a man. Yes, a big man! He was brave, he was fearless, and as tough as a mighty oak tree. From the coonskin cap on top of ole Dan to the heel of his rawhide shoe. The rippenest, roarinest, fightenist man the frontier ever knew." But, this is Texas.
So eventually, I found myself singing, "Born on a mountain top in Tennessee,
Greenest state in the land of the free. Raised in the woods so's he knew every tree, Killed him a bear when he was only three. Davy, Davy Crockett King of the Wild Frontier."
You get the idea. Eventually, True has a sort of identity crisis. He comes to me and asks who he is supposed to be. I don't know. He looks like Davy Crockett to me, but it was a bonafide Daniel Boone costume. It doesn't matter since they were both frontier men, I reasoned.
But that didn't work with True. We started reading at wikipedia about the two of them and I was stunned at how little I knew. Where did that crap I thought I knew come from?
True was thrilled to hear that Davy Crockett died at the Alamo fighting for Texas. And then , the obvious, "Where did Boone die? Where did Boone die?"
He's pelting me with questions as I scan through the article. And I said, "He lived in Missouri."
True, "But did he die at the Alamo?"
Me, "Nope, looks like he just died in Missouri because that's where he lived."
So True said, "Well, that settles it. I'd rather die at the Alamo than live in Missouri. I'm Davy Crockett"
OH HELLS YEAH!! My brother lived in a coonskin cap for nearly two years. I was so nostalgic seeing True dress up like that. It was the best. In the end, no one guessed Daniel Boone at any of the gazillion houses that we knocked.
Oh, and when we were reading about Daniel Boone on Wikipedia, we learned that he didn't wear a coonskin cap. Wikipedia says the coonskin cap was a Davy Crockett rip off on the tv series. Interesting.
Long story longer, when we finally got home from trick or treating, the kids dripping with sweat and almost unable to carry the candy, True came to his own conclusion. He said even though everybody thought he was Davy Crockett, he was really more of a Daniel Boone since it was just too hot for a coonskin cap in Texas.
Remember the Alamo!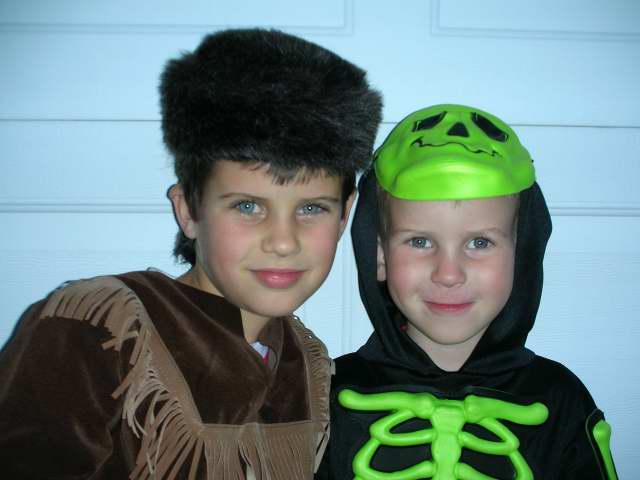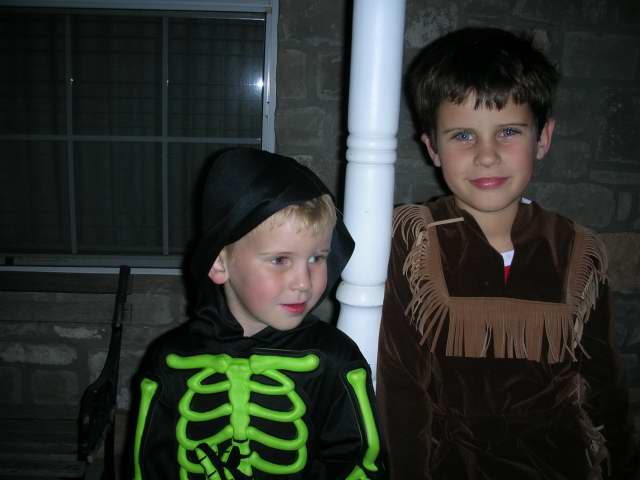 Posted by shoe at November 7, 2006 10:38 PM | TrackBack