cootchie chou, lurky lou?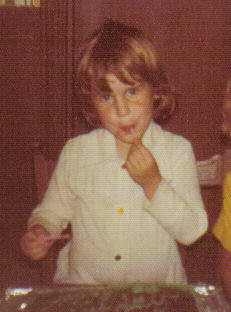 Back in the late days of the bicentennial, it is said that I was some sort of legend on our block. A budding capitalist? That's how I like to portray it.
Seems for spare change I'd drop my panties and show the neighbor boys my cootchie. Now, this could (I hope) be a complete fabrication. I swear I have no memories to support the allegations. In fact, I'd prefer we call it older brother memory manipulation. Evil bastard, I wouldn't put it past him considering the now obvious long term damage.
I mean, here I sit. Not much progress thirty years later. Privates popping out at the most wretched google searches known to man. Why the hell do I do this? I have no idea. How do I keep it interesting? That's easy, I don't.
So this year, I have a simple birthday wish. I've shown you mine, now show me yours. And don't hold out, I read a lot of blogs. I see the kind of unadulterated asslicking that goes down at other sites. Not here. Not ever. What gives?
I want minions, just for one day. I want never ending narcissistic comments in the hundreds. I want them all to be about me and the wonder that is my blodge. And if I have to raise my rates, so fucking be it. This cootchie has been a steal at just under pocket change since birth.
You get the picture, my honeys. Make up shit if you have to, but get to work. Birthday girl wakes in 7 hours, and she wants to be blown away.
Posted by shoe at November 9, 2006 10:18 PM | TrackBack