2794
Hey. We live. Quite well and free, I might add. Fabulous, perfect, beyond my wildest dreams vacation with the kids. I plan on inundating you with pics very soon, I got quite a few dandies.
But I'm exhausted. 2794 miles without incident. FINALLY got pulled over tonight 10 miles from home. He was cute and he pulled me over so fast, from the opposite direction, across the median, kicking up dirt dukes of hazzard style. Dang, my heart was racing, my hands shaking, voice quaking. It was like the grand finale or something. He clocked me at 86 and let me go with a warning. Don't tell me my copsucker charms aren't working. Seriously, now.
But while I go and decheeto my car, I leave you with a new beauty I found just tonight. This really needs to be a new segment, perhaps "backin' bou" or something? You know, for that black and blue feeling that comes with raising boys? What do y'all think?
Three was a magic number, but according to the Alleymeistah life would really be dreamy if it were just us two. Enjoy! Translation to follow after the pic: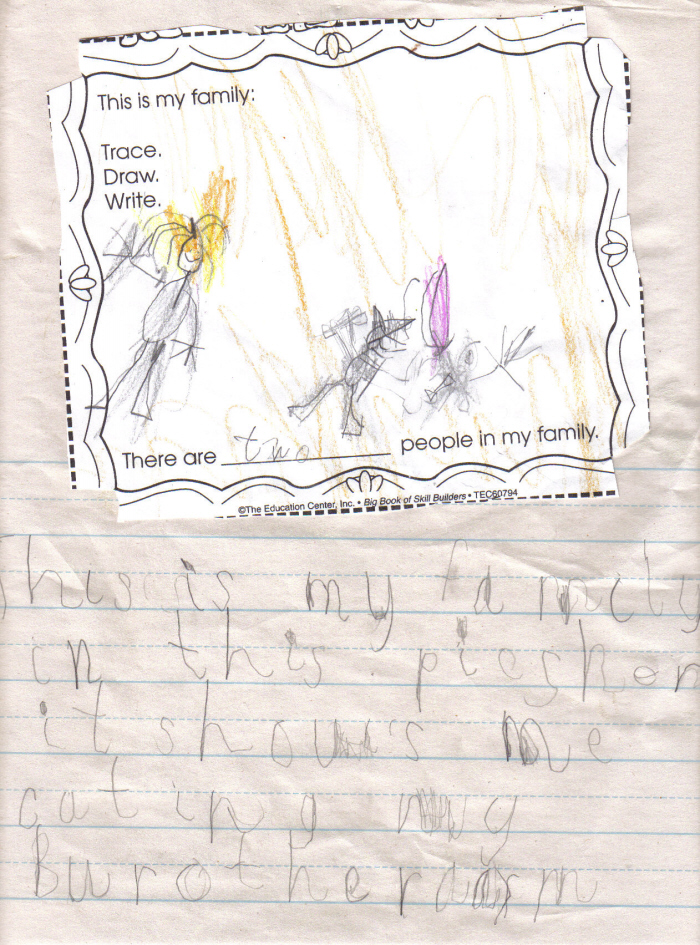 This is my family in this picsher it shows me me cutting my burothers arm (off).
Sweet, huh. At least the only blood was on the chainsaw. Teacher just sent it home in the folder, another day, another scary assed kinder story. That's just how it goes.
Y'all be well, and see you soon.
Posted by shoe at March 17, 2007 07:42 PM | TrackBack