Hay There, Vacation Chapter 4
I have written about my spending disorders before, but I forgive you if you're not one to read the history first. Me neither. For you, my fellow cliff notes variety fruitcake, just don't comment about my money sickness. I know.
Anyhoo. Before I can even get to Disney, I have to say we were so far ahead thanks to Bou. Thank you, Bou! Your calling me and all the pointers, and everything was so appreciated. You helped make our trip as memorable as it was, and as clusterfuck prone as I usually am, I know it was all thanks to you and your almanac of Disney Beta. Have you considered a sideline business, Bou? Really, you should turn your quirky engineering ways into a profit stream. You are a viable resource, enough said.
So we get in line, I mean, get to Disney. Actually, we got in a two hour lag wait at the hotel checking in which for us was park entry as well. And since we got to the park unexpectedly late, we made a last minute decision to go to EPCOT first. Bou said it was never crowded, and you know, first day of spring break, and it wasn't.
We rode everything once. The kids could care less about the countries. We didn't even see them that first day. We rode two or three rides, until the first one that dumped us into a giant store at the end. God bless capitalism! It's like riding a giant slide into a FAO Schwarz. Instead of filtering thru turnstyles, you filter past cash registers. We were all dumbfounded by the fifteen feet of product. I lost the kids, probably more than once, didn't care, awe, lookie at that. Isn't that cute? Smitten, we were.
I had done a great job, I thought, of confining the children with well thought out limits. True got 6 A's, straight A's, in fact, so I paid him ten bucks apiece. Alex was having a birthday on the day after we returned and since I hadn't really gotten him anything, I told him he could have sixty bucks to spend as well. And so with the children safely corralled at $120, I proceeded to spend money like a drunken high roller in Vegas, minus the winning streak.
And the boys, ran away and came back demanding their first piece of mousegear. Check it out...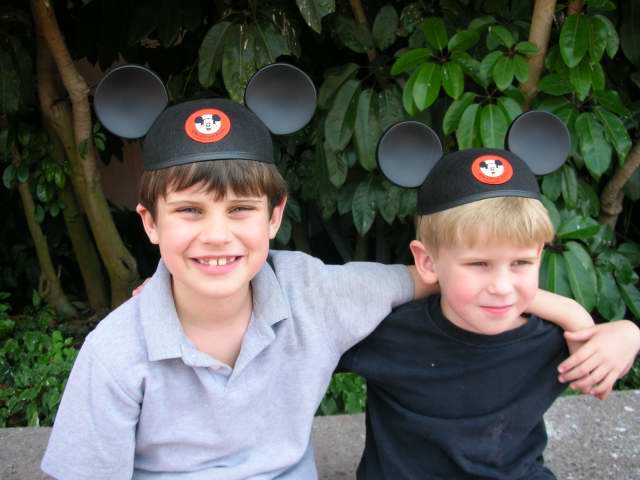 the 50's variety original mousketeer beanie. Soon after, Alleycat requested that he be known as the Alleymouse henceforth.
We petered out of energy at around 2 that afternoon, went back to our hotel, swam for an hour and then ventured back out. We went to the Animal Kingdom, which we thought was a mistake, because it looked like million people pouring out of there when we arrived at 4. we didn't realize that park closed around 7. Everyone was openly griping about the insane crowds as they filtered past us, but we got in and no one was there. Pure luck. Somehow our traffic kharma carried on into Disney. We rode the Kali River Ride about 5 times straight at the end, we were all soaked.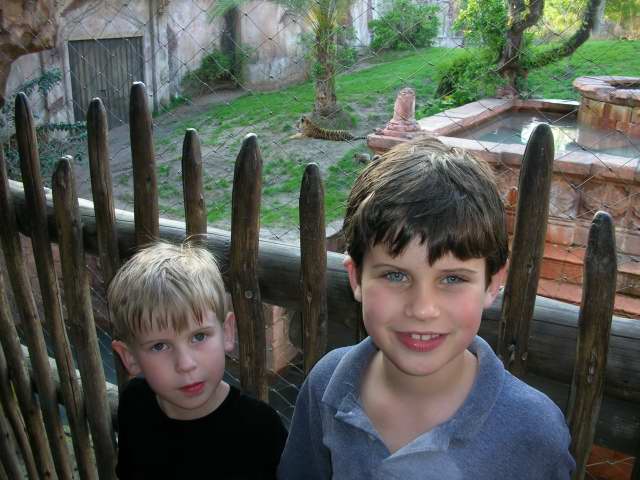 Some people there told us it was late night at MGM & that they had a neat firework show. We hopped on a bus, went to MGM, walked right in the door, to the restroom, noticed people gathering by a door. It was people who had scored no waiting front row seats for the cool firework show, and this doorway was the secret entrance. We slipped through, undetected by the ticket patrols along the way. It was awesome.
Probably kept the kids up until 11 that night. We ended by flying in a star wars simulator. The boys were so excited and at the end, they bought themselves lightsabers with the bulk of their Disney dollars.
But I was suffering by the end of day one. We have a saying in my business that goes, "put some hay in the barn, " a reminder to save a little everyday. Well, that first day in mouseland, was like watching the barn go up in flames. I was so flipping out of control with my financial disorders, I refused to even price batteries for the lightsabers. The kids were beside themselves. They put in their own request: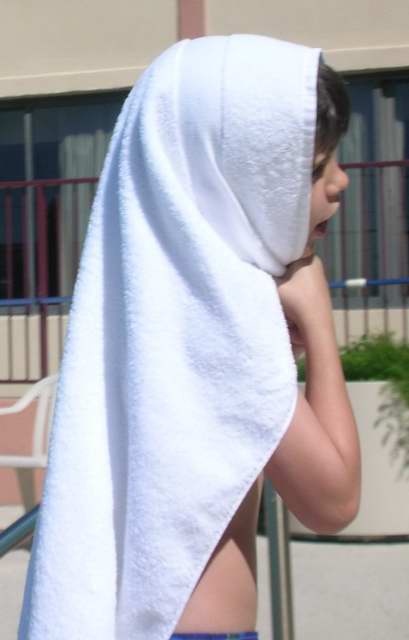 Help me, JoeBi-OneKenobi, you're my only hope
And one last afterthought from that day, Jolie reminded me, we heard the "expialadoches" song at MGM movie ride. The kids lost it. Here we are in this booooooring old movie land, and the grannies were all singing about assholes!
Posted by shoe at April 5, 2007 05:05 PM | TrackBack